Image via Wikipedia
Dear friends, colleagues, and travelers in a common space.
Let me use this opportunity to share with you once more, experiences and insights from our business practice. As one of the prime companies in Slovenia we implemented the concept of
Enterprise 2.0
for our company, called Vibacom 2.0. Here are our initial observations and experiences, shared with you, through an interview with our team members,
Estera Lah
and
Siniša Jančić
, that have led the way. This is their story:
VB: At the beginning of this year we presented to the Slovenian public the concept of Web 2.0 that has been broadly acknowledged in the world community, already. But what is so special about Enterprise 2.0?
EL: We've heard a lot about Web 2.0 and its advantages for an individual's social life on the web, e.g., in the form of blogs, wikis and social communities (
FaceBook
,
MySpace
). But the variation of this concept for business systems is becoming more and more popular and efficient. That is Enterprise 2.0. It means that different web tools and applications for communication are being commonly used within our company. The key functionality is that the knowledge and experiences of employees are shared on-line all the time, and at anytime. We can talk about some kind of "internet of the company" the content of which is co-created by employees. This concept could be extended to customers or partners, as well. In other words, with Enterprise 2.0 we can build business communities simply, and cost effectively.
VB: For the Enterprise 2.0 concept to flourish, a certain organizational infrastructure (physical and social) needs to be in place, some sort of "thinking company". What is your experience?
EL: Certainly. Vibacom 2.0 (note: Enterprise 2.0 corporate community for
Vibacom
) allows and needs a net-based organization of which characteristics are flexibility, transparency, a non-hierarchical approach and of course cooperation. One of the key success factors is the
willingness of all users to change their mindset.
This is very important in order to co-create information flow, and cooperation in any thinking process. Vibacom 2.0 tools allow our company to merge our knowledge, experiences and the day-to-day activities into a so-called
collective mind
that is accessible to everybody in the company. That leads to increased productivity, quality and creativity that is a base for all innovative breakthroughs.
VB: Siniša, what does Vibacom 2.0 really mean, what kind of tools are we talking about?
SJ: Web 2.0 offers many effective tools for "home users" which are also applicable for business environments. In the first place these are all advanced tools for web information exchange: corporate blogs, that are written by employees; wikis that allow large numbers of people to access and up-grade documents on web; RSS sources that allow a selection of fresh and custom-tailored news; web portals (such as
SharePoint
) and social networks that allow the exchange of focused content. In addition, there are tools that allow unified communication and combine the voice and text (
VOIP
, messaging, videoconferences etc.). It is worth pointing out also, platforms that combine most of these tools and are adjusted to business environments,
for example
Google Apps
, which is used by Vibacom for its Vibacom 2.0 space.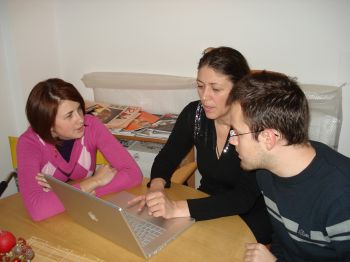 VB: What has stimulated Vibacom to start using Google Apps and move its business to web?
SJ: The key motivations were the challenges of data synchronization, remote access, data storage and co-depended platforms that we had to deal with daily. The centralized web platform allows us to get rid off all our difficulties related to corporate calendars, document up-dates, revisions, and project coordination, regardless of the location or system platform (PC, Mac, Linux, Symbian). It was important for us to get access to our e-mails contacts, and to see the history of the data use from any point of the globe, either via fixed or mobile communication. There are still many other benefits that we will integrate to our work place in the future. However, in spite of the enthusiasm, I would like to stress that the migration to this platform could be sometimes slow and even difficult. Yet, the benefits justify the investment needed in for the initial phase, especially in the work organization and business logic.
VB: Based on my experiences I understand that Enterprise 2.0 also requires some cultural changes in business environment. What were the challenges while implementing Vibacom 2.0?
SJ: I was not surprised that the first response of my colleagues was very enthusiastic; there were no emotional challenges in the transition to a new business platform, since Vibacom's team is always open for new ideas and fresh business practices. However, we were all concerned a little, how we would work when there was no access to the web, how to reach mail and calendar in that eventuality? The question was of-course relevant to me, however, my constant response was, can it ever really happen that there is no access to the web? Web is everywhere; we have so many types of acceptable prices for systems, types of access (wi-fi, HSDPA, UMTS, EDGE,...) that the issue is not an issue any longer. So we have started a journey but are keeping in mind this possible weakness.
EL: I would just like to point out that in fact Vibacom 2.0 is an intellectual challenge related to willingness to change. It requires a different understanding of the net and the applications. This cannot happen over night. It is a process of constant transformation and comprehension that it is vital, and desirable to share knowledge and experiences with others; that in fact we are connected on the net all the time anyway, and that is great when each of us can create and participate in a common repository of the corporate consciousness and self-being.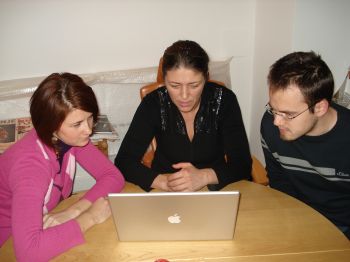 VB: I know that as a director of Vibacom I was, and continue to be, concerned about the security, abuse or misuse of corporate knowledge and information?
SJ: The most common questions about Enterprise 2.0 and in for matter, Vibacom 2.0, as well, is how safe the transition is, what happens when or if somebody abuses the system, what if Google is abusing our data etc. The question is of course a relevant one, and all the concerns are legitimate ones. However, many people never ask about the security of existing, well-established, conventional institutions (like banks). I'm quite sure that IT security in many companies today is much weaker than these new web platforms. Only a people few really understand how complex efficient administration of local servers and appropriate protection of access is. Not to mention the enormous costs related to sustainable up-grading of such a system. Nevertheless with Google, people are less concerned about security. Their primary fear is the concept of Orwell's Big Brother, who sees everything, hears everything and knows everything. Again the analogy with a bank is appropriate one. It took some time for people to trust the banks.. in the end it comes to a decision between fear of a Big Brother and the commodity of an open system. Of course big companies can get the best of the both worlds: Enterprise 2.0 concept in their protected local environment.
VB: What are the next steps in the evolution of Vibacom 2.0?
SJ: The next step is to complete the rest of the document management transition to the web and implementation of the Google's version of a
Power Point
. In addition, we would like to up-grade our access devices (smart mobile phones) to improve mobility access.
EL: It is our plan to up-grade Vibacom 2.0 communication and work-flows with the networks of our customers and business partners. However we're aware that this will be an ongoing process and that we first need to gain more experience within Vibacom,s internal environment. However, a first small pilot project is already happening.
The first steps have been taken. As owner and director of the company, I can see the first positive effects; common calendar access and co-creation of documents (on-line) with colleagues. These steps have improved productivity significantly and allowed much faster generation of suggestions and new ideas. Simultaneously, project management has become much more effective and transparent.

That's it for 2007. I wish you a Merry Christmas and Wonderful 2008!
Let it be a good partner and an honest friend. From our hearts to you,

Violeta, Estera, Mojca, Barbara, Siniša